EXERCISE 2.1 || DREAMING YOUR DREAM ENVIRONMENT
Give yourself 30 minutes this week to describe, in writing, your ideal Dream environment. Maybe you'll discover that you like Dreaming with music in the background or sketching your ideas while sitting near a dog park. Maybe you'll find yourself most excited about the idea of Dreaming while surrounded by items that reflect your Dream, like a bookstore or library, an athletic court or field, a crowded mall or farmers' market. This simple activity gives you a chance to envision the ideal space for your imagination to grow.
EXERCISE 2.2 || DREAMING IN CHILDLIKE WONDER
After you've given yourself time to Dream in Childlike Wonder, break out your colored markers, pencils, pens, or crayons to capture the ideas and images from this exercise. Sketch, draw, or write your Dream.
---
---
---
---
---
EXERCISE 2.3 || YOUR ONE-YEAR DREAM PROJECTION
In your notebook, write your One-­Year Dream Projection. Feel free to write in fragments and with bullet points, to scribble or sketch—use any format that you enjoy.
---
---
---
---
---
EXERCISE 2.4 || CREATE YOUR 90-DAY STRETCH PLAN
Fill in the boxes below with your corresponding goals for weeks 1 through 12.
Your Weekly Goals for a 90-Day Stretch Plan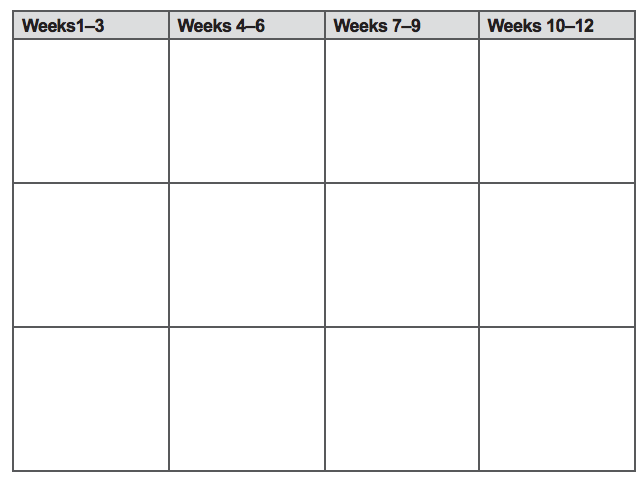 EXERCISE 2.5 || DECLARE YOUR DREAM
Dream Accountability Partner 1:
---
Declared Dream on This Date:
---
Dream Accountability Partner 2:
---
Declared Dream on This Date:
---
Dream Accountability Partner 3:
---
Declared Dream on This Date:
---